---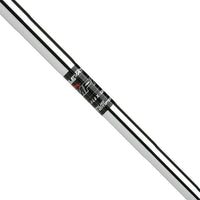 Designed to combat the low spin industry trend, Elevate MPH (Maximum Peak Height) is the lightest and highest launching Elevate shaft ever made, allowing for maximum speed and carry distance. Featuring ultra high strength vanadium enriched steel alloy, Elevate MPH shafts remain stable even at such lightweight designs.  
Features:
Lightest weight, highest launching version of the Elevate MPH series of premium steel shafts
Designed to maximize club head speed and distance while maintaining the feel and stability of a premium steel shaft
Delivers increased trajectories resulting in optimal landing angles to help hold more greens
Tip Trimming Instructions:

2i: 0.0"
3i:

0.0"

4i:

0.5"

5i:

1.0"

6i:

1.5"

7i:

2.0"

8i:

2.5"

9i:

3.0"

W:

3.5"
True Temper Elevate MPH 95 Specs:
R-Flex

Butt: .600"
Tip: .370"
Weight: 90g
Length: 40"
Bend Point: Low

Parallel Tip Section: 14"
Rating: 3B3H

Swing Speed:

 77-92

mph
Focus on Control and Distance
High Trajectory
Assists with a Hook

S-Flex

Butt: .600"
Tip: .370"
Weight: 90g
Length: 40"
Bend Point: Low

Parallel Tip Section: 12"
Rating: 4B3H

Swing Speed:

 93-107

mph
Focus on Control and Distance
High Trajectory
Assists with a Hook