---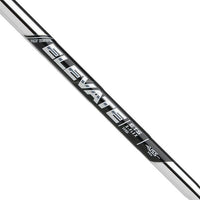 Lightweight shafts designed to increase launch angle often have additional droop and lag, leading to more off-center strikes and wider shot dispersion. Elevate ETS 115 utilizes True Temper's Variable Wall Technology to increase wall thickness in the tip section, providing an extra-long reinforced tip section (30% longer than original Elevate) to promote Enhanced Tip Stability (ETS). This enhanced tip stability allows for more consistent strikes and a tighter shot dispersion from a mid-high launching/spinning shaft. Elevate ETS 115 features proprietary vibration dampening VSS Pro technology.
True Temper's proprietary Vibration Suppression System (VSS) reduces unwanted shaft vibrations from contact. There are two models of VSS technology: standard VSS which reduces 71% of harsh vibration from contact—producing the softest feel in golf and VSS Pro, which dampens 56% of harsh vibrations from contact while still maintaining the critical shot feedback demanded by accomplished players.
Features:
Constant weight, .355 taper tip option of the Elevate ETS Series.
Features ETS (Enhanced Tip Stability), which is created by a lengthening of the variable wall in the tip section by 30% over the original Elevate.
Features VSS Technology, reducing unwanted vibration by 71% while producing the softest feel in golf.
For players seeking a stable, lighter weight steel iron shaft that produces a mid to high trajectory with mid to high spin.
No Tip Trimming, Butt cut to length only
True Temper Elevate Tour Specs:
R-Flex

Butt: .600"
Tip: .355"
Weight: 115g
Length: 36.5"-40.5"
Bend Point: Mid

Rating: 3B2H


Swing Speed:

 77-92 

mph
Focus on Control and Distance
Mid-High Trajectory
Assists with a Hook

S-Flex

Butt: .600"
Tip: .355"
Weight: 116g
Length: 36.5"-40.5"
Bend Point: Mid

Rating: 4B2H


Swing Speed:

 93-107 

mph
Focus on Control and Distance
Mid-High Trajectory
Assists with a Hook

X-Flex

Butt: .600"
Tip: .355"
Weight: 117g
Length: 36.5"-40.5"
Bend Point: Mid
Rating: 5B2H

Swing Speed:

 108+ 

mph
Focus on Control and Distance
Mid-High Trajectory
Assists with a Hook