---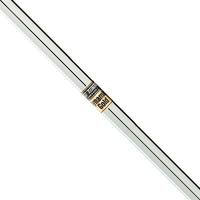 Dynamic Gold is the Gold Standard by which all other iron shafts are measured. It is the most successful shaft in the history of golf and still continues to dominate on professional tours each and every year. Dynamic Gold is a tour-weighted shaft that is designed for players seeking a low, penetrating ball flight for optimum control and accuracy.
Features:
Tour weighted stepped steel shaft with a high bend point yielding a more tour preferred ball flight
Available in .370" tip diameter, R300, S200, S300, S400, and X100.
Tip Trimming Instructions:

2i: 0.5"
3i: 1.0

"

4i: 1.5

"

5i: 2.0

"

6i: 2.5

"

7i: 3.0

"

8i: 3.5

"

9i: 4.0

"

W: 4.5

"
True Temper Dynamic Gold Specs:
R300

Butt: .600"
Tip: .370"
Weight: 127g
Length: 41.0"
Bend Point: High

Parallel Tip Section: 14"
Rating: 3C1M

Swing Speed:

 77-92 

mph
Focus on Control
Low Trajectory
No Swing Correction Assist


S200

Butt: .600"
Tip: .370"
Weight:

127g

Length: 41.0"
Bend Point: High
Parallel Tip Section: 12"
Rating: 4C1M

Swing Speed:

 93-107 

mph
Focus on Control
Low Trajectory
No

 

Swing

 

Correction

 

Assist

S300

Butt: .600"
Tip: .370"
Weight:

130g

Length: 41.0"
Bend Point: High
Parallel Tip Section: 12"
Rating: 4C1M

Swing Speed:

 93-107 

mph
Focus on Control
Low Trajectory
No

 

Swing

 

Correction

 

Assist

S400

Butt: .600"
Tip: .370"
Weight:

134g

Length: 41.0"
Bend Point: High
Parallel Tip Section: 12"
Rating: 4C1M

Swing Speed:

 93-107 

mph
Focus on Control
Low Trajectory
No

 

Swing

 

Correction

 

Assist

X100

Butt: .600"
Tip: .370"
Weight: 109g
Length: 41.0"
Bend Point: High

Parallel Tip Section: 12"
Rating: 5C1M

Swing Speed:

 108+ 

mph
Focus on Control
Low Trajectory
No

 

Swing

 

Correction

 

Assist