---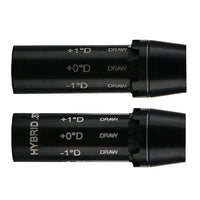 The GolfWorks aftermarket Universal Cobra adaptor allows for 8 different loft and or face angle adjustments for the Cobra RADSPEED Drivers, King SZ, SZ Extreme, SZ TL, F9, F8, F8+, F7, F7+, King LTD, F6, F6+, Fly Z, Fly Z+, Bio Cell and Bio Cell Pro drivers.
Because the Universal Adaptor simply list +/- loft and face angle settings it can be used in any of the above mentioned models without having to stock multiple adaptors for Pro and Standard drivers, fairways and hybrids.
Features:
Right Hand (Can be used in left hand heads - Numbers will be reversed)
Available in .335" for drivers and fairways or .370" for hybrids
8 loft and face angle settings.
Milled aluminum
Made in USA
Note: Adaptor screw is not included.