---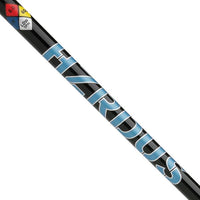 To make the best, you have to use the best. Project X has teamed up with Hexcel®, a global leader in composites technology for aerospace and military operations, to utilize their HexTow® carbon fibers. Hexcel's HexTow® carbon fiber represents the highest quality aerospace-grade carbon fiber delivering superior performance on some of the world's most advanced aircraft.
Players are always chasing that perfect balance of feel and stability from a golf shaft. Something not too boardy, but not too whippy; the ideal amount of smooth yet stable is the holy grail. With a unique bend profile that strategically changes per flex for player optimization, and the use of Hexcel's HexTow® carbon fibers, Smoke Blue RDX is a shaft that ticks all the boxes.
Smoke Blue RDX is a counterbalanced design that features a soft midsection to maximize shaft load and feel while maintaining a stout butt and tip section to keep up with all swing speeds and provide a stable feel through impact. Smoke Blue RDX is available in a gloss black finish, PVD Blue finish and a limited edition U.S.A. themed PVD Blue version exclusively through Performance Fitting Centers.
| | | | | | |
| --- | --- | --- | --- | --- | --- |
|   | DR | 3W | 5W | 7W | 9W |
| Tip Trim | 0" | 0.5" | 1.0" | 1.0" | 1.0" |
HZRDUS Smoke Blue RDX Specs:
60 Series
5.5 R-Flex:

Tip: .335"

Butt: .600"
Torque: 4.2°
Weight: 64g
Length: 46"
Parallel Tip Section: 3"
Rating: 3B2M


Swing Speed:

77-92 mph

Focus on Control and Distance
Trajectory: Mid
Kickpoint: Mid
No Swing Correction Assist

6.0 S-Flex:

Tip: .335"

Butt: .600"
Torque: 3.4°
Weight: 64g
Length: 46"
Parallel Tip Section: 3"
Rating: 4B2M


Swing Speed:

93-107 mph

Focus on Control and

 

Distance
Trajectory: Low
Kickpoint: High
No Swing Correction Assist

6.5 X-Flex:

Tip: .335"
Butt: .600"
Torque: 3.4°
Weight: 64g
Length: 46"
Parallel Tip Section: 3"
Rating: 5B2M

Swing Speed:

 108+ mph

Focus on Control and

 

Distance
Trajectory: Low
Kickpoint: High
No Swing Correction Assist
70 Series
6.0 S-Flex:

Tip: .335"

Butt: .605"
Torque:

 

3.2°
Weight:

 75

g
Length: 46"
Parallel Tip Section: 3"
Rating: 4B2M


Swing Speed:

 93-107 mph

Focus on Control and

 

Distance
Trajectory: Low
Kickpoint: High
No Swing Correction Assist

6.5 X-Flex:

Tip: .335"
Butt: .605"
Torque:

 

3.2°
Weight: 75g
Length: 46"
Parallel Tip Section: 3"
Rating: 5B2M

Swing Speed:

 108+ mph

Focus on Control and

 

Distance
Trajectory: Low
Kickpoint: High
No Swing Correction Assist