---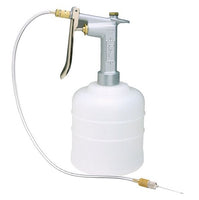 Now you can remove a grip and save it for future use. You can add build-up tape to correctly size it, and then reinstall — keeping the grip in perfect playing condition! Ideal for a repair shop or clubmaker. This durable pump holds lots of solvent. Convenient cap for needles minimizes breakage. Five 18-gauge needles and extension hose are included.
Please Note: Grip Solvent works best with this tool. DO NOT USE perchlorethylene as it dissolves neoprene seals. To prevent damage to seals, store all liquid in another container.
Disclaimer: These guns are very temperamental and they can get gummed up very easily which keeps them from working from one time to the next. Some solvents like Mineral Spirits leave a residue that will gum up the gun. 
C

lean it per the instructions that come with the gun and it will get working again. 

You also may need to prime it and an instructional video is below.