---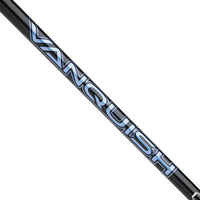 VANQUISH™ is a brand-new ultra-premium lightweight brand designed to help golfers unlock more club head speed while still providing unparalleled consistency swing-to-swing. 
VANQUISH™ features six core technological tenets to deliver more consistency swing-to-swing and help you shoot lower scores: 1) a new Amorphous Wire Technology used in the butt section to increase activity in the handle for more clubhead acceleration, 2) a Super Low Resin Content Prepreg to drive resin content lower and increase carbon density for the best possible feel, 3) proprietary, exotic 46 and 40 Ton prepregs used in full length applications for added strength and lower torque, 4) a uniquely fortified tip section with outer layer material angled differently for tip stability, 5) Consistent Feel Design to reduce the variables between weights and flexes to allow for ease of fitting, and 6) our Precision Crafted Design to ensure VANQUISH™ keeps the tightest possible tolerances in weight and frequency. 
New Amorphous WireTechnology - Vanquish uses Amorphous Wire Technology in an all-new application. Instead of using it in the tip section, amorphous wire is used in the butt section for the very first time. This amorphous wire's elasticity increases the activity in the handle of the shaft to maximize ball speed and club head acceleration.  
Super Low Resin Content Prepreg - Prepreg containing as low as 20% resin content is used to achieve lighter weight and higher carbon density for maximum feel without diminished strength. 
Uniquely Fortified Tip Section - Mitsubishi Chemical engineers used an all-new material application to provide additional tip stability. By optimizing the angle of the outer layer material in the tip section, we are able to create increased stability throughout the swing leading to more consistent center-face contact.
| | | | | | |
| --- | --- | --- | --- | --- | --- |
|   | DR | 3W | 5W | 7W | 9W |
| Tip Trim | 0" | 0.5" | 0.75" | 1.0" | 1.0" |
Vanquish Specs:

40 Series
A-Flex:

Tip: .335"

Butt: .586"
Torque: 5.4°
Weight: 47g
Length: 46"
Parallel Tip Section: 3"
Rating: 2B2S


Swing Speed:

 63-76 mph

Focus on Control and

 

Distance
Trajectory: Mid-High
Kickpoint: Mid
Assists with a Slice
R-Flex:

Tip: .335"

Butt: .586"
Torque: 5.4°
Weight: 48g
Length: 46"
Parallel Tip Section: 3"
Rating: 3B2S


Swing Speed:

 77-92 mph

Focus on Control and

 

Distance
Trajectory: Mid-High
Kickpoint: Mid
Assists with a Slice
50 Series
R-Flex:

Tip: .335"
Butt: .590"
Torque: 4.2°
Weight: 55g
Length: 46"
Parallel Tip Section: 3"
Rating: 3B2M

Swing Speed:

 77-92 mph

Focus on Control and

 

Distance
Trajectory:

Mid-High

Kickpoint: Mid
No Swing Correction Assist

S-Flex:

Tip: .335"

Butt: .590"
Torque: 4.2°
Weight: 57g
Length: 46"
Parallel Tip Section: 3"
Rating: 4B2M


Swing Speed:

 93-107 mph

Focus on Control and

 

Distance
Trajectory:

Mid-High

Kickpoint: Mid
No Swing Correction Assist

X-Flex:

Tip: .335"
Butt: .590"
Torque:

 4.1

°

Weight:

 59

g
Length: 46"
Parallel Tip Section: 3"
Rating: 5B2M

Swing Speed:

 108+

 mph
Focus on Control and Distance
Trajectory:

Mid-High

Kickpoint: Mid
No Swing Correction Assist