---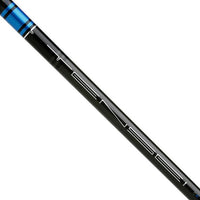 The TENSEI™ CK Series features a multi-material design that optimizes classic, tour-proven MRC GOLF bend profiles in much the same manner as racecar designs use exotic materials to enhance performance and efficiency. This innovative brand debuted in January 2016, with the TENSEI™ CK Blue Series that included more materials than any other shaft MCA has ever made to date, making it the most playable of their smooth profiles.
In fact, the Japanese word "Tensei" means "transformation" in English -- a more-than-appropriate name for this franchise. While a typical shaft series includes three-to-six materials, the TENSEI™ CK Series combines 11 different prepreg materials, including MCA's Low Resin Content (L.R.C.) prepreg, ultra-thin prepreg and for the first time a Carbon Fiber/DuPont™ Kevlar® weave featuring MRC carbon fiber -- all to help refine and take our classic smooth bend profile to an entirely new level.
Features:
Features the same multi material design as the CK Blue Wood shaft, optimizing a classic tour proven MRC bend profile.
Designed to provide a smooth overall bend profile for improved feel and to be a versatile fit for many player types.
Produces a mid launch trajectory with medium spin.
Tip Trimming Instructions:
2h: 0.5"
3h: 1.0"
4h: 1.5"
5h: 2.0"


Mitsubishi CK Blue Specs:
A-Flex

Butt: .596"
Tip: .370"
Weight: 75g
Length: 42"
Torque: 3.4°
Parallel Tip Section: 4"
Rating: 2B2M

Swing Speed:

 63-76 

mph
Focus on Control and Distance
Mid-High Trajectory
Bend Point: Mid
No

 

Swing

 

Correction

 

Assist

R-Flex

Butt: .600"
Tip: .370"
Weight: 77g
Length: 42"
Torque: 3.3°

Parallel Tip Section: 4"
Rating: 3B2M

Swing Speed:

 77-92 

mph
Focus on Control and Distance
Mid-High Trajectory
Bend Point: Mid
No

 

Swing

 

Correction

 

Assist
S-Flex:


Butt: .604"
Tip: .370"
Weight: 80g
Length: 42"
Torque: 3.3°

Parallel Tip Section: 4"
Rating: 4B2M

Swing Speed:

 93-107

mph
Focus on Control and Distance
Mid-High Trajectory
Bend Point: Mid
No

 

Swing

 

Correction

 

Assist