---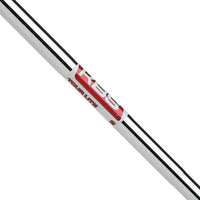 The KBS TOUR LITE is designed for players seeking tight dispersion, higher
trajectory, additional spin, precision control & combining it with maximum distance
in the ultimate lightweight package. The perfect golf weapon for a player of any
skill level. The KBS TOUR LITE conclusively assists to increase swing, control,
dispersion & ball speeds. Independent testing showed that the KBS TOUR LITE
Series averaged 9% more distance than its leading competitors. As the newest,
lightest, steel shaft in the KBS product line, the KBS TOUR LITE Series is a 20%
lighter version of the KBS TOUR shaft, as well as 20% lighter than any standard
steel shaft in the same category. The KBS TOUR LITE Series will consist of a 95/R,
100/S, and 105X in weight & flex. Same great KBS TOUR feel & performance, in a
LITE package.
SHAFT FEATURES
STIFF TIP SECTION
ADVANCED STEP PATTERN
FIRM SHAFT DESIGN
MID-WEIGHT CONSTRUCTION
3-FLEX SYSTEM
STABLE TIP SECTION
HIGHER CG LOCATION
LIGHT-WEIGHT CONSTRUCTION


| | | | |
| --- | --- | --- | --- |
|  Tip Trimming: | R-Flex | S-Flex | X-Flex |
| 2 Iron | 0.0" | 2.0" | 0.0" |
| 3 Iron | 0.5" | 2.5" | 0.5" |
| 4 Iron | 1.0" | 3.0" | 1.0" |
| 5 Iron | 1.5" | 3.5" | 1.5" |
| 6 Iron | 2.0" | 4.0" | 2.0" |
| 7 Iron | 2.5" | 4.5" | 2.5" |
| 8 Iron | 3.0" | 5.0" | 3.0" |
| 9 Iron | 3.5" | 5.5" | 3.5" |
| Wedge | 3.5" | 5.5" | 3.5" |
Tour Lite Specs:
R-Flex

:


Butt: .600"
Tip: .370"
Weight: 105g
Length: 42"
Rating: 3B2H

Swing Speed:

 77-92 

mph
Focus on Control and Distance
Mid-High Trajectory
Kick Point: Mid
Assists with a Hook

S-Flex

:


Butt: .600"
Tip: .370"
Weight: 105g
Length: 42"
Rating: 4B2H


Swing Speed:

 93-107 

mph
Focus on Control and Distance
Mid-High Trajectory
Kick Point: Mid
Assists with a Hook

X-Flex:


Butt: .600"
Tip: .370"
Weight: 110g
Length: 40.5"
Rating: 5B2H


Swing Speed:

 108+ 

mph
Focus on Control and Distance
Mid Trajectory
Kick Point: Mid
Assists with a Hook