---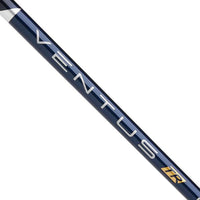 Introducing a new profile to the lineup, VENTUS TR. Born from the continuous quest for improvement and backed by enso®–driven analytics and Tour feedback, VENTUS TR builds upon one of the most trusted and best-selling wood shafts in Fujikura history. TR is a new mid launch, low spin profile in the VENTUS line. Welcome to the next level of VENTUS performance.
VELOCORE TECHNOLOGY + SPREAD TOW FABRIC With VeloCore Technology providing an incredibly stable platform for performance, the additional integration of a unique Spread Tow carbon fabric works in unison to create advanced overall stability without compromising player feel.
enso® ANALYTICS Ongoing enso® analytics show that the shaft undergoes tremendous stress in the mid/handle section during the transition and downswing. By incorporating an incredibly strong and ultra-lightweight Spread Tow carbon fabric, VENTUS TR is able to increase torsional stiffness in this specific section, helping to even further reduce twist and ovalization during the swing.
The Fujikura Ventus TR integrates advanced design features to provide players additional stability., increased consistency, and enhanced overall performance.
Utilizing VeloCore Technology to provide an incredibly stable platform, the Ventus TR incorporates and added layer of ultra-high modulus spread tow material to increase the torsional stiffness in the mid/handle section of the shaft by almost 10% compared to Ventus Blue, reducing shaft twist and ovalization during the swing.
Designed to produce a mid-launch with low spin.
**Please note:  Due to Fujikura Policy, this shaft must be installed in a clubhead or have an adapter installed prior to shipment.  Please indicate in the order notes what clubhead you will be installing this into so that the correct shaft adapter can be installed.  We will provide and install the adapter at no additional cost.
| | | | | | |
| --- | --- | --- | --- | --- | --- |
|   | DR | 3W | 5W | 7W | 9W |
| Tip Trim | 0" | 0.0" | 0.5" | 1.0" | 1.5" |
Ventus TR Specs:
50 Series
R2-Flex:

Tip: .335"
Butt: .605"
Torque: 3.7°
Weight: 56g
Length: 46"
Parallel Tip Section: 3"
Rating: 2B1M

Swing Speed:

 63-76 

mph
Focus on Control and

 

Distance
Trajectory: Mid
Spin: Low
Bend Point: Mid
No swing correction assist

R-Flex:

Tip: .335"
Butt: .605"
Torque: 3.5°
Weight: 58g
Length: 46"
Parallel Tip Section: 3"
Rating: 3B1M


Swing Speed:

 77-92 

mph
Focus on Control and

 

Distance
Trajectory: Mid
Spin: Low
Bend Point: Mid
No swing correction assist

S-Flex:

Tip: .335"
Butt: .605"
Torque: 3.3°

Weight: 58g
Length: 46"
Parallel Tip Section: 3"
Rating: 4B1M


Swing Speed:

 

93-107 mph
Focus on Control and

 

Distance
Trajectory: Mid
Spin: Low
Bend Point: Mid
No swing correction assist
60 Series

R-Flex:

Tip: .335"
Butt: .605"
Torque: 3.3°
Weight: 67.5g
Length: 46"
Parallel Tip Section: 3"
Rating: 3B1M


Swing Speed:

 77-92 

mph
Focus on Control and

 

Distance
Trajectory: Mid
Spin: Low
Bend Point: Mid
No swing correction assist

S-Flex:

Tip: .335"
Butt: .605"
Torque: 3.1°
Weight: 68g
Length: 46"
Parallel Tip Section: 3"
Rating: 4B1M


Swing Speed:

 

93-107 mph
Focus on Control and

 

Distance
Trajectory: Mid
Spin: Low
Bend Point: Mid
No swing correction assist

X-Flex:

Tip: .335"
Butt: .605"
Torque: 2.9°
Weight: 68g
Length: 46"
Parallel Tip Section: 3"
Rating: 5B1M


Swing Speed:

 108+ 

mph
Focus on Control and

 

Distance
Trajectory: Mid
Spin: Low
Bend Point: Mid
No swing correction assist
70 Series
S-Flex:

Tip: .335"
Butt: .605"
Torque: 2.9°
Weight: 78g
Length: 46"
Parallel Tip Section: 3"
Rating: 4B1M


Swing Speed:

 

93-107mph
Focus on Control and

 

Distance
Trajectory: Mid
Spin: Low
Bend Point: Mid
No swing correction assist

X-Flex:

Tip: .335"
Butt: .605"
Torque: 2.7°
Weight: 79g
Length: 46"
Parallel Tip Section: 3"
Rating: 5B1M


Swing Speed:

 108+ 

mph
Focus on Control and

 

Distance
Trajectory: Mid
Spin: Low
Bend Point: Mid
No swing correction assist